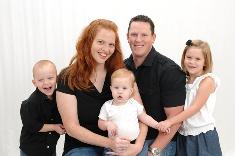 Nate and Sarah Hessee serve as church planters in Wentzville Missouri. Nate returned to his home state of Missouri to plant New Life! He spent 8 years serving the Lord as an Assistant pastor in Jacksonville, Florida. Throughout his 10 years of ministry, Nate has had the opportunity to minister and speak to thousands of teens here in the states, as well as minister in the Philippines. In addition to working with teenagers, Nate has had the opportunity to minister to Senior Adults, Young Couples, as well as College Aged Singles.
Sarah is no stranger to ministry either having grown up in a pastors home (Ralph & Cathy Flowers). Sarah has ministered to children for many years. Whether it was teaching 3rd grade in a private school, or Jr. Church, or even helping coordinate and teach in Vacation Bible School here in the states and in Ecuador. Sarah loves having a part in shaping the lives of the next generation.
Nate and Sarah have 3 children: Suzy, Jack, and Johannah. The whole family is excited to be in Wentzville and used by God in reaching more people with the Gospel of Jesus Christ!
Nate and Sarah

Phone: 636-856-0458
Email:
[email protected]
851 Parr Rd
Wentzville, MO
www.newlifewentz.com